About Me
Professional Profile of Karen Thompson
Objectives: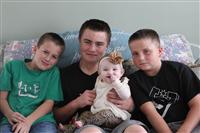 To represent you as your personal real estate professional, by providing the highest level of service possible. To continually provide this premium level of service, while maintaining that 'extra personal touch', which you can rely on in the years to come.

Accomplishments:
2016 - 2018 Centurian Agent - Troop C21 Real Estate

2012 – 2015 President's Club Elite – Troop Real Estate

2011 – Multi Million Dollar – Troop Real Estate

2007 – 2010 President's Club – Troop Real Estate

2006 – President's Club Elite - Troop Real Estate

5 Years - Member of Grievance Committee, Simi Valley/Moorpark Association of Realtors

2011 – Member of the Simi Valley Chamber of Commerce

2008 – Citizens Emergency Response Team (CERT)

2007 – Citizen's Academy – Simi Valley Police Department

2007 – Team Captain of 'Relay for Life' for Simi Sunrise Rotary

2007 – Alumni Leadership Simi Valley – Class of 2007

2006 – Current member of Simi Valley Sunrise Rotary Club

2005, 2006 & 2008 – 3 Day (60 mile) Breast Cancer Walk and personally raised over $14,000

2006 – Eagle Sponsor & Committee Member Troop R.E. – Adopt-A-School GolfTournament

The Personal side of your Personal Realtor:

Karen and her family came to Simi Valley in 1968. She is a graduate from Simi Valley High School and attended Moorpark College. Karen sparked an interest in the financial field. Karen's Real Estate career began in 1977. Through the years, she sold residential homes, worked in escrow and worked for one of the largest land development companies in Southern California. Karen has three wonderful sons she is very proud of, Jason, a fireman for Ventura County and Matt, a General Contractor and Stepson Josh serving in the United States Air Force. Karen is married to Dwight who is a Retired Sergeant of the Simi Valley Police Department; they enjoy spending quality family time together, traveling, camping and motorcycle riding in their free time. Karen has been a top producing Realtor for the last 35+ years and is proud to say she is part of the "Century 21Troop Team". Karen continually has become one of Century 21 Troop Real Estate's Top Agents. Karen had the honor of being selected as one of Troop Real Estates 'Mentor' Agents. Karen believes that through her years of sincere dedication she truly is,

"Your Real Estate Connection"

Serving:

Simi Valley, Moorpark, Conejo Valley, San Fernando Valley, Santa Clarita Valley,Ventura Coastal area, and all other surrounding areas! Certified Relocation Specialist!
Thank You
Karen Thompson